/
Monday, 23 December 2019
/
Published in
Setup Xtream UI IPTV Panel Professional – Part 1
IPTV Restream Xtream UI IPTV
The Software is mainly used for the so-called IPTV broadcasting, but also with great potential for all kind of other content delivery applications such as audio and business streaming, cloud video transcoding, and all other kind of global streams.
What is IPTV? IPTV Restream
Internet Protocol television (IPTV) is a system through which television services are delivered using the Internet protocol suite over a packet-switched network such as a LAN or the Internet, instead of being delivered through traditional terrestrial, satellite signal, and cable television formats. Unlike downloaded media, IPTV offers the ability to stream the media in smaller batches, directly from the source. As a result, a client media player can begin playing the data (such as a movie) before the entire file has been transmitted. This is known as streaming media.

IPTV services may be classified into three main groups:

Live television, with or without interactivity related to the current TV show;
Time-shifted television: catch-up TV (replays a TV show that was broadcast hours or days ago), start-over TV (replays the current TV show from its beginning);
Video on demand (VOD): browse a catalogue of videos, not related to TV programming.

IPTV is distinguished from Internet television by its ongoing standardisation process (e.g., European Telecommunications Standards Institute) and preferential deployment scenarios in subscriber-based telecommunications networks with high-speed access channels into end-user premises via set-top boxes or other customer-premises equipment.
Xtream UI Installation Process IPTV Restream
Xtream UI is an open-source that basically controls Xtream code software. It is open source so you can download it for free and because of that there is no support team you need to do install and everything on your own. In this post, I will show you how to install and add a stream source using Xtream UI.
The first step is to install Xtream UI to your main server after that install admin interface

After you have done the installation part you will get a link to login on Xtream UI interface with username/ password default is admin/admin.
If necessary, you can add a Load balancer Server by following this tutorial: Install a load balance server
By the same method, you can do the same step. IPTV Restream
The Graphical User Interface (GUI): Xtream- Ui Panel
If you are confronted the very first time with it, it might be confusing at first with all the available options, but be assured, that after 1 or 2 days you'll be getting used to it. Many features and possibilities are waiting for you, and it also a few have and have not's. Let's start with the "have's!
Xtream UI main features including:
Load Balancing by adding servers (1 is free, all others must be bought)
Manage all servers in a very simple and powerful interface
MAG Devices Support
New powerful transcode System supporting almost every function
Every stream is playable (more protocols support)
Faster zapping time (instant)
Powerful Logging & Search System
Stream Statistics
Http Live Streaming (HLS) Output
iOS/Android Client Area Portal IPTV Restream
More lightweight
The Menus & Options  of the Panel
Implementing LEGITIMATE Streams in your Panel and Managing Streams
Attention: Many customers make here a major mistake, with the result of missing audio and other misbehaviors in the stream later. What Video & Audio Codec should I use if I transcode later?
Xtream Codes has added many video & audio codecs but not all of these codecs are supported for IPTV use. To be on the safe side, you should always use the H.264 as video codec and AAC as the audio codec for IPTV use.
As we can see, importing a live stream, a movie or a radio broadcast stream was never that easy. We start by adding a live stream.
Two options here: One single stream by Add Stream, or multiple streams by Import streams option! If you import multiple streams, you need the file/stream list (notepad file or excel file) containing all of your streams. IPTV Restream
Step 1: Click on Streams category and choose Add Stream
Stream name: Add the name of the channel
Stream URL: Add stream URL, please use .ts link to restream. You can add a few sources for one channel buy using Plus button
Category:
Add to bouquets
Stream Logo URL:
Notes
Step 2: Add EPG
You can leave Advanced, Map, Auto-restart ad default.
Step 3: Choose servers to restream
Move a server inside the Stream source

Turn Start stream now button to green to auto-start channel then click on Add button

Very useful are the "Stream Tools" in the Streams Section:
Adding a New Movie IPTV Restream
You can also add a movie you uploaded to your server previously, or even from a remote source.
We can start by adding a few categories
Step 1: Add category
Click on Setting choose Categories and add New category for Movie section.
Step 2: Add Bouquet
On the main Menu choose Bouquets and Add new bouquets
Step 3: Add Movie
You have 2 options, you can download these movies your storage or set direct in advanced setting of streams
(You can record movies from online sources by transcoding them.)
– Choose direct source
1. Click on VOD on the main menu and choose Add Movie
2. Enter Movie Path or URL
3. One the advance setting enable Direct source

4. Finally, choose a server for VOD

– Choose some movie from a disk of server:
For local videos, disable everything enable the only Symlink and choose movie extension
Click play button and panel will create a symlink to this file
It takes 20-30 seconds and it is fone movies added form local directory
Create your own content
You need:
– At least one transcoding profile available
– Add VOD content into your panel
Importing thing is using the same codes and resolution on content files.
Step 1: Click on Streams and choose to Create channel
Step 2: Enter Detail for channel
On Selection type, there is 3 options are available: Series, File browser, VOD selection
– Channel name:
Category Name
Transcoding Profile
Add to Bouquets
Stream Logo URL
Step 3: Selection
Choose Content for your channel: you can choose a few movies for your channel and click on Click button
Step 4: Review
On the review section, you can see VOD that you added, you can reorder those movies
Step 5: Servers
– Choose a server to restream the channel and hit Create button
It will take around 30s to create a new channel
Features, Options, Security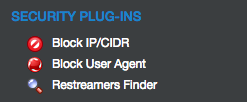 Restreamers Finder IPTV Restream
Another useful feature is the so-called Restreamers Finder. In these days there are many restream software's for ordinary users on the market, like Hola addons for Android Systems and many more.
Block User Agent
Not absolutely clear about this feature. What is a "User Agent"? A User Agent is normally a short string that web browsers and other applications send to identify themselves to web servers. Unfortunately, most browsers falsify part of their User-Agent header in an attempt to be compatible with more web servers. Useful, but I find that the manual assigning of each single user agent is a hell of a work. There are preconfigured block lists already in the Internet and it would be from great help, if Xtream Codes would allow loading a whole list.
Block IP/CIDR
IP blocking is clear, but what is a CIDR? Classless inter-domain routing (CIDR) is a set of Internet protocol (IP) standards that is used to create unique identifiers for networks and individual devices.
The IP addresses allow particular information packets to be sent to specific computers. Shortly after the introduction of CIDR, technicians found it difficult to track and label IP addresses, so a notation system was developed to make the process more efficient and standardized. That system is known as CIDR notation.
Resume? Absolutely useful!
There is still some work to do specially in the editing sector, one of the most important parts of streaming software:
Searching for Bad Movies (a dog's work if hundreds/thousands of movies)
Adding a new stream and assign it direct into a bouquet, would be more then useful.
Mass edit Movies features (ex:Assign Movies to a server in bulk) setup xtream codes
Ending the first part, I want to say thanks to Xtream-Codes for giving me the tools and the necessary "LB Plugins" (Naaaa, not a plugin, Xtream-Codes! Call it a Addon better!) to start.
[
Update
: Part 2 is up @ 
Xtream Codes IPTV Panel Review – Part 2: Movie Data Editing, Security, Resellers, Users and Pricing Management
 ]
TAG: xtream codes api catchup, xtream iptv codes, how to install xtream codes, xtream codes stb emulator apk, kodi xtream codes iptv, xtream codes for kodi, xtream codes v2 cracked, xtream codes iptv links, xtream codes kick user, xtream codes zgemma, xtream codes flood limit, xtream codes iptv alternative, what is xtream codes, xtream codes link